Design Team Members Kristin Batsel and Lora Mahaffey have come up with 3 adorably dreary ATC Hutch Shrines for you to take delight in! (And did I mention those Hutch Kits are On Sale!? But catch 'em quick — they're only on sale through Saturday night!)
Before I jump in on their creations first let me tell you that you'd never know it by looking at their sweet faces but confidentially — they're both more than a little bit off. Of course you know coming from me that is definitely NOT a bad thing! I just get the biggest kick out of some of the things these two come up and as usual Kristin and Lora don't disappoint!
Kristin's Melancholy Circus is filled with morose children and their little dogs who are forced to perform in the circus, due to no ones fault but their own. Kristin says:
I was inspired by the thought of kids running away to join the circus, and then discovering that circus life is really not all it's cracked up to be. Turns out it's a Melancholy Circus: even the trick dogs are sad. Sorry, kids!
Tsk, tsk. The naughty children should have just stuck with doing their chores at home and not running away in the first place! Kristin used the New and On Sale! Valance Curtain Die-Cut Chipboard on the bottom of her hutch — so clever don't you think? For more information and additional supplies she used to create the Melancholy Circus, please see Kristin's blog post.
Ahhh, the effervescent Mr. & Mrs. Beed straight from the curdled mind of Lora Mahaffey. Each in their own ATC Hutch Shrine since their big personalities don't allow for them to both be in the same space. Clearly you can see how much they are enjoying the festivities!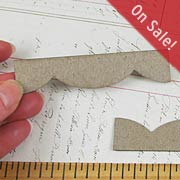 Lora also used the same Valance Curtain Die-Cut Chipboard that Kristin used only she used hers on the top which gives the Beeds' shrines more of a cabinet type look. My favorite out of the two are Mr. Beed with his skelly balloon, but then again Mrs. Beed sitting there looking so stern and without an ounce of fun or smile in her withered old face is quite enchanting as well. The smiling Pumpkin Pod peeking out from behind her skirt is cute; perhaps it is laughing at Mrs. Beed's charming party hat?
To see more about Mr. & Mrs. Beed visit Lora's blog. And here's a list of products that Lora used to create her delightful couple.
But don't forget to come back and see what goodies (including New! Halloween goodies) Leslie has pulled together for her Giveaway shown below!

Hooray for the Delightfully Dreary Giveaway! Lots of items from all the Hutch Shrine art above (plus a few scrapbook papers in the same palette… and some New! Halloween goodies!)
Here's just a few highlights (and even more items with photos are below — and a link to the full list of 25 (!) goodies in the Giveaway):
SIX Scrapbook Papers:
– All Hallows Eve Poisoned Scrapbook Paper On Sale!
– Phantom: Mystic Scrapbook Paper On Sale! (you may not believe it, but that black and cream large damask pattern in the bottom right corner (photo at right) is the back of that sheet!)
– Witching Hour Scrapbook Paper On Sale! (I do believe those orange skulls Lora cut into balloons are from the back of this sheet)
– Cashmere Dame Chevron Scrapbook Paper On Sale!
– Halloween Enchanted – Haunted Scrapbook Paper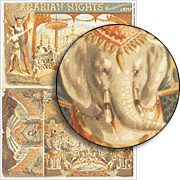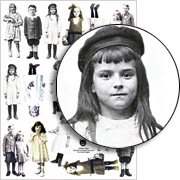 – Steampunk Spells – Fanciful Floral Scrapbook Paper (another one you may not recognize: Kristin used the orange houndstooth check on the back of the sheet on the back of her hutch)
An ATC Hutch Shrine Kit On Sale!
A flat kit to make a sturdy, little box perfectly sized to hold an ATC. 1/8″ Masonite. Instructions included.
THREE Collage Sheets:
– Circus Arabian Collage Sheet
– Little Imps Collage Sheet
– Little Darlings Collage Sheet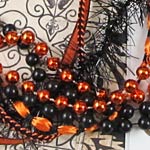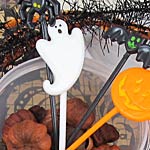 To enter the Delightfully Dreary Giveaway drawing all you have to do is leave a comment (below) on this blog post by midnight, August 9, 2013 (Friday night PST). (Don't forget to leave your email address, too, so I can contact the winner; note, your email address does not need to be made public. Note: I'm offering free shipping, too, but only within the USA. International shipping will still apply.)
Please be patient! Spammers try to post crap here a lot so comments are moderated. So if you don't see your post in the comments section, be patient and check back in a few hours before re-posting it, please!
By Sunday morning's newsletter, I'll randomly pick the winner (via Random.org). So make sure to check back Sunday to see who won!

Posted by MizBella, August 8th, 2013