Beside Kira's cute & colorful birdcage (with an introduction by Miz Bella (Kim Ayers)), there are tons of bird-themed goodies in store today, including two FREE collage sheets — and the entire Birds section is On Sale! Let's start with Bella's introduction: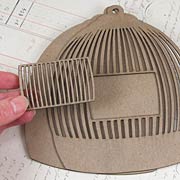 Is this not the most adorable Budgie Birdcage you've ever seen?! In her delightful style, Design Team Member Kira Nichols has created a colorful home for two lucky little birdies.
Kira started out with the New and On Sale! Round 2-Part Die-Cut Chipboard Birdcage that is almost 5-1/2″ wide x 6-1/2″ tall. Wow, that is almost big enough to put my smarty pants 13 year old teenager into when she's well… acting like a 13 year old teenager! Back to the birdcage — it has a solid back piece and a front with lots of vertical openings for the cage (plus a removeable "door"). With the birdcage you could create adorable gifts for bird-lovers with the On Sale! Parrots Collage Sheet that Kira used, too! The holidays ARE just around the corner so plan early and be stress-free this year. (We can try to act organized; can't we?!)
For the background Kira used On Sale! Distress Stains and Distress Paints and made the color pop even more with the Fuchsia Ric Rac Dresden Borders Set. Yes! Fuchsia Dresden! Don't you just love it?
Find a full list of other components that Kira used here. Visit Kira's Gallery here.
Now, what was that about FREE Collage Sheets?? Scroll down to the Giveaway area to learn more. What, a Giveaway, too? Yes! Just leave a comment to enter the drawing for today's Giveaway!


Hooray for the Budgie Birdcage Giveaway! Beside the fun bird-filled Giveaway that Miss Meghan pulled (including lots of the goodies Kira used in her Budgie Birdcage), there are also TWO free collage sheets on offer!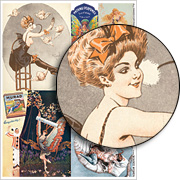 1. The new Winged Women Collage Sheet is FREE with all orders over $20 placed through Saturday, July 27th. Sale items are eligible, too (toward meeting the $20 requirement, but shipping and taxes are not). (Note: all-digital orders over $20 will receive the collage sheet as a digital file.)
2. In case you need some birds to fill a birdcage, I've also created a FREE Parrots & Peacocks ATCs Collage Sheet! Bright and colorful, just like all of Kira's artwork!
There's nothing to buy: this one is free to everyone. Here's the link to download the collage sheet. But remember to come back & enter the drawing below!
Back to the Giveaway, here's a few highlights from that busy photo (and look below for photos/links to even more):
– FIVE collage sheets (all On Sale!): Songbirds – ATCs & 4x4s, Nesting Instincts, Finches, Bird's Nest, Parrots
– Ric Rac Dresden Borders Set – Fuchsia
– On Sale! Tiny Glass Spheres in Bottles in three colors: Fuchsia, Turquoise, Lavender
– On Sale! Artisan Elements Borders Stickers
– On Sale! Teal Fiber Set
To enter the Budgie Birdcage Giveaway drawing all you have to do is leave a comment (below) on this blog post by midnight, July 26, 2013 (Friday night PST). (Don't forget to leave your email address, too, so I can contact the winner; note, your email address does not need to be made public. Note: I'm offering free shipping, too, but only within the USA. International shipping will still apply.)
Please be patient! Spammers try to post crap here a lot so comments are moderated. So if you don't see your post in the comments section, be patient and check back in a few hours before re-posting it, please!
By Sunday morning's newsletter, I'll randomly pick the winner (via Random.org). So make sure to check back Sunday to see who won!

Posted by MizBella, July 25th, 2013