Note: most of the links on this post no longer work, as we moved to a new Web site in 2018. But you can try searching on the same names (as links below) on the new site.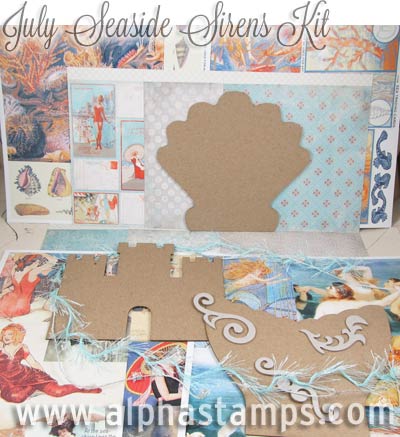 Ah… summer. It has really hit hard here, as it's over 100 degrees, but with those cool aqua/sky blue colors (mixed with the hot, spicy orangy-reds, and sandy tans in this kit's palette) you have your choice of cooling down, hotting up, or mixing it up.
And with 3 new exclusive die-cut chipboard designs, all in seaside shapes, you'll have lots of choices on what to decorate, too.
You'll be amazed by what the Design Team has created this month. From wall banners (horizontal or vertical) to books and pop-up displays. Beside clicking on the pics of Design Team art on the kit page (to see larger photos), be sure to stop by the Gallery and see more ideas.
And there are also new beach-y things not in the kit that you can find by clicking on the "What's New" badge at the top right of this page (and/or see a few by viewing the highlights below). In case you're visiting this page a bit late (so the "new" things showing are not beach-themed any longer), all the beachiness I'm referring to is also in the Beach Theme Section, which is On Sale! That's HUGE (over 100 items to mix and match with the July Kit or just to take advantage of the sale prices and replenish your stock.

Posted by Leslie, June 30th, 2013