Who knew that making a Tunnel Book could be SO easy?! Design Team Member Kira Nichols did and she has created a way easy step-by-step tutorial just for you!
With just a few basic supplies; starting off with the New and On Sale! 4×4 Die-Cut Chipboard Frame Set you'll find yourself churning these out like crazy! Before you know it you may have crafted your pants too!
I love how the accordion-pleated sides give you options for attaching cut-out figures/creatures to the sides, that can stick out into the center area of the book (and you can have more pleats than Kira shows in her tutorial, so there's more of a sense of depth).
Kira actually made 3 little books! You can see each one and find a complete lists of all the components that Kira used at these links:
– A parrot book (the one she makes in her tutorial),
– a squirrel book (too cute!… and the collage sheet that squirrel came from is in the Giveaway, below)
– and a book with a zebra and the Mad Hatter's hat (not sure when those two characters crossed paths, but it all works!)
Head on over to Kira's blog for the full tutorial! And/or see more photos in the gallery.

And, hey, Laura Carson has also made a tunnel book, but a different sort. Both Laura and Kira's books have an accordion-pleated spine (or sides) in common. But Laura's book opens like a traditional book. And Laura's "tunnel" is more of a round tunnel through the middle of each book's page (as Alice in Wonderland falls through her rabbit hole "tunnel")!
Laura has more info on her blog post. And here is a full list of components Laura used (many of which are in today's Giveaway!… including that metal key hole at the end of Alice's fall, with Alice herself peering back at us?)
A couple new things (colorful, like all of Kira's vibrant art, or Alice-themed) are below. And don't forget to scroll down to see what related Giveaway Leslie has pulled for today's prize!


Are you ready? For the Tunnel Book Giveaway!? I started with a June Black & White Silhouettes Kit (so you'll already have 2 sets of the 4×4 Die-Cut Chipboard Frame Set and all those black and white prints that Kira colored crazily on all of her books), then I picked some items from each of Kira and Laura's books: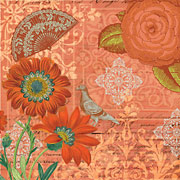 FOUR zingy scrapbook papers, ALL on sale!:
– starting with the New Lucille Pin It Scrapbook Paper
– Curio Upholstery Scrapbook Paper (bet you didn't recognize that screaming lime green side)
– French Country Deja Vu Scrapbook Paper
– Engraved Garden Fan Scrapbook Paper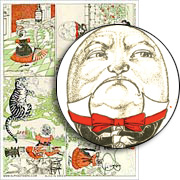 And SIX collage sheets (that's in addition to the 4 already in the June Black & White Silhouettes Kit!):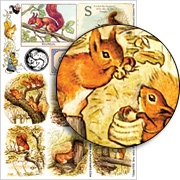 – Alice: The Trial Collage Sheet (On Sale! because it's part of the BIG Alice in Wonderland Collage Sheet Sale that ends this Saturday night, June 15th!)
– Alice in Green Collage Sheet (On Sale!)
– Kira's Flowers Collage Sheet
– S for the Squirrel Collage Sheet
– Small Theatre Curtains Collage Sheet
– Round Things Collage Sheet (printed on transparency, a used by Kira on the book in her tutorial)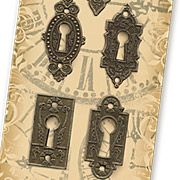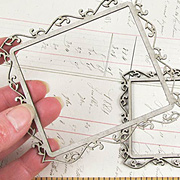 And a few more items from Laura's book:
– a set of Mini Playing Cards
– a set of Ornate Metal Key Holes On Sale!
– Orange Daisies
– a set of Fancy Chipboard Frames
– a Chipboard Tea Set
– an Antique Brass Skeleton Key
– and a 3D Brass Crown
To enter the Tunnel Book Giveaway drawing all you have to do is leave a comment on this blog post by midnight, June 14, 2013 (Friday night PST). (Don't forget to leave your email address, too, so I can contact the winner; note, your email address does not need to be made public. Note: I'm offering free shipping, too, but only within the USA. International shipping will still apply.)
Please be patient! Spammers try to post crap here a lot so comments are moderated. So if you don't see your post in the comments section, be patient and check back in a few hours before re-posting it, please!
By Sunday morning's newsletter, I'll randomly pick the winner (via Random.org). So make sure to check back Sunday to see who won!

Posted by MizBella, June 13th, 2013