Another Giveaway! In honor of the ongoing Easter Parade Accordion Book Swap, I'm giving away an Easter Parade Kit and have sweetened the pot with some very colorful scrapbook papers, Czech crystal beads, French ribbons and German chick Dresden! And all of those items are now On Sale! through Saturday night, March 16th!
And, even better, I put the ENTIRE Scrapbook Paper section on sale (that's close to 200 designs)! Also, On Sale only through Saturday night! Here are links to the four papers included in the Giveaway (shown in the background of the photo at right):
– Flora & Fauna Aqua Bird Eggs Scrapbook Paper
– Engraved Garden Fan Scrapbook Paper
– Happy Haunting – Enchanted Garden Scrapbook Paper (Don't ask me! It doesn't look very Halloweeny to me, but it does have a bunch of really colorful sunflowers)
– Ambrosia Marigold Scrapbook Paper
Then while wandering around the warehouse my eyes landed on the Tango Mix from the 6mm Faceted Bead Mixes so I grabbed one of those, too! (And I've put all the colors On Sale!)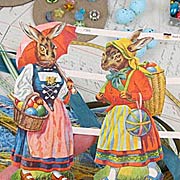 And I've also added 3 yards of 1/8 Inch Drapey Ribbons that coordinate with all the goodies in the Giveaway (and they're On Sale, too!)
Finally, I found a few odd chicks, leftovers from kitting up the Yellow Dresden Chicks (and, yes, I put them on sale as well!)
To enter the Easter Parade Kit Giveaway drawing all you have to do is leave a comment on this blog post by midnight, March 15, 2013 (Friday night PST). (Don't forget to leave your email address, too, so I can contact the winner; note, your email address does not need to be made public. Note: I'm offering free shipping, too, but only within the USA. International shipping will still apply.)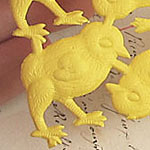 Please be patient! Spammers try to post crap here a lot so comments are moderated. So if you don't see your post in the comments section, be patient and check back in a few hours before re-posting it, please!
By Sunday morning's newsletter, I'll randomly pick the winner (via Random.org). So make sure to check back Sunday to see who won!

Posted by Leslie, March 14th, 2013