Miniature Domes (in Glass or Plastic)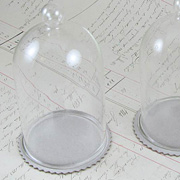 Sweet! Miniature domes in either glass or plastic (the plastic version are less expensive (and less breakable) than glass; they are meant for making snow globes so have a little rubber stopper for the hole in the base). And that clever Kira Nichols! See the photo at far right for a height comparison… and both domes are under 5″ tall.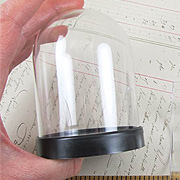 Plus the Design Team went wild and there are tons of colorful, Spring-y domes in a new Easter Gallery (lots of domes with bunnies and eggs, but not all… like Caroline Ouzts-Hay's Lollipop Guild Dome (using one of her collage sheets, from Thursday's Wizard of Oz announcement or Shannon Tuttle's lovely Miss Mary, Quite Contrary Dome.
And speaking of that Easter Gallery, mixed in with the domes are a bunch of new Paper Mache Easter Eggs (see the next row for info on some of the new goodies used). You'll be amazed by the variations the Design Team created (eggs on stands, eggs that hinge open, eggs with portholes, bunnies stealing egg houses from chicks…). And not in that gallery but equally fabulous is a Winged Egg (at right) by Rhea Freitag!




Mushrooms


Adorable Bunny Dome by Design Team Member Rhea Freitag.
Posted by Leslie, March 10th, 2013