Note: most of the links on this post no longer work, as we moved to a new Web site in 2018. But you can try searching on the same names (as links below) on the new site.
In honor of the (New!) Wizard of Oz Collage Sheets (designed by Design Team Member Caroline Ouzts-Hay!) I've pulled together Another Giveaway! And put the collage sheets On Sale!
And wandering around the warehouse I've found that some of the patterns on the back of scrapbook papers are a good match for the colors in the new collage sheets (at least the manufacturers think they're the back sides… I beg to differ). The four (On Sale!) scrapbook papers included in the Giveaway are:
– Le Cirque: Circus Parade Scrapbook Paper
– Odds & Ends: Sampler Scrapbook Paper
– Evangeline Tapestry Scrapbook Paper
– Firecracker Scrapbook Paper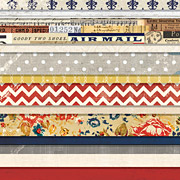 And (lucky you!) I'm including a 6×6 paper pad from the Yours Truly collection (with a couple designs I think would make a great little Yellow Brick Road background)! And have put the paper pad On Sale, too!
And I've also included a set of the brand-spanking new Bright Filigree Sequin Mix in the Giveaway! Plus some bits of ribbons in the remnants bin that are also a good match for the bright colors in the collage sheets. (I think the most surprising color match is the stitched cotton twill from the Patterned Christmas Ribbons.)
Finally, I've included 2 embellishment sets from the Yours Truly collection (and put them On Sale, too!):
Yours Truly Peek-a-Boos (see those black-and-white die-cut transparencies in the background of the main photo?) and
– Yours Truly Paper Layers
To enter the Wizard of Oz Collage Sheet Giveaway drawing all you have to do is leave a comment on this blog post by midnight, March 8, 2013 (Friday night PST). (Don't forget to leave your email address, too, so I can contact the winner; note, your email address does not need to be made public. Note: I'm offering free shipping, too, but only within the USA. International shipping will still apply.)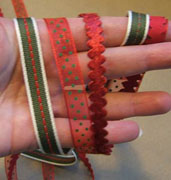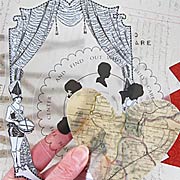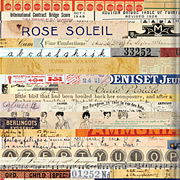 Please be patient! Spammers try to post crap here a lot so comments are moderated. So if you don't see your post in the comments section, be patient and check back in a few hours before re-posting it, please!
By Sunday morning's newsletter, I'll randomly pick the winner (via Random.org). So make sure to check back Sunday to see who won!

Posted by Leslie, March 7th, 2013