If you were following along with The Twelve Days of Christmas project you saw some fun (and witty) ATCs made by the Design Team and by a talented crew of Guest Designers. (See below for a row of highlights and here for a link to the whole gallery.)
And now Design Team Member Laura Carson has created two Festive ATC Display/Storage Tins you can house ATCs in (or use as decor or as fancy gift containers)!
And the Square Tea Tin used as the base of both tins is On Sale!
On the first tin (2 views shown in the large photo at right), Laura used the Chipboard Lamp Post with Sign to hang some labels and clocks from the On Sale! 12 Days of Christmas and Holiday Phrases Collage Sheets.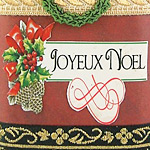 On the second tin Laura's made good use of the gorgeous New Metallic Jacquard Ribbons. And has some lovely Art Nouveau ladies from the On Sale! Moon & Stars Collage Sheet adding a star to the top of a New Chipboard Tree Die-Cut.
Speaking of the Square Tea Tin, here's another trim idea: New Glad Tidings Christmas Die-Cut Borders. Plus (!) those borders, along with a Square Tea Tin and a ton of other coordinating goodies are in a New Giveaway!

And before you run off to check out Laura's ATC Tins on her blog, or to enter the Giveaway, here's a couple reminders of projects added for The Twelve Days of Christmas since the last Sunday Newsletter.

Note: it's not too late to make some Christmas ornaments, cards or gift tags! Especially if you have a color printer and can make use of a digital collage sheet! AND all of the Christmas Collage Sheets are now on sale! AND all of the Bird Collage Sheets are on sale, too! (Have you noticed how many birds there are in the lyrics to the 12 Days of Christmas?)
Posted by Leslie, December 16th, 2012