Note: it's not too late to make some Christmas ornaments, cards or gift tags! Especially if you have a color printer and can make use of a digital collage sheet! AND all of the Christmas Collage Sheets are now on sale! AND all of the Bird Collage Sheets are on sale, too! (Have you noticed how many birds there are in the lyrics to the 12 Days of Christmas?)
We've made it! It's December 12th, Day 12 of The Twelve Days of Christmas at Alpha Stamps!
On The Twelfth Day of Christmas my true love gave to me… 12 adorable Frolicking Frenchies by Design Team Member Shannon Tuttle!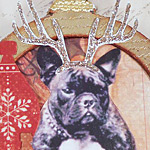 Yes, Shannon has French Bulldogs and her love for them shows in these cute ornaments that could be used singly but she's also made into a mobile. They start with a New and On Sale! Vintage Frenchies Collage Sheet!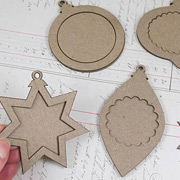 But what are the cool, retro shaped ornaments themselves? They're Layered Ornaments in your choice of Masonite or Chipboard! The New! Layered Chipboard Ornaments is a set with all four shapes. The slightly more robust New! Masonite Ornaments come separately (still layered ornaments but 1 shape per package).
And look at those antlers on that handsome fellow above! They're from the New! Reindeer Antler Stencil Set (obviously not just to be used as stencils)!
You may recognize the Star Mix Cut-Outs Shannon used, as they were also used on Monday by Teri on one of her Festive Feline wall hangings.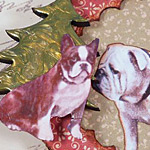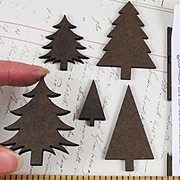 And Shannon spruced up some of the ornaments with the New! Pine Tree Die-Cuts.
So frolick on over to Shannon's Blog to find out how she built her mobile and how she made transparent windows in the Masonite Ornaments with ICE resin!
Highlights of a few items Shannon used are below (all On Sale!); here's a list of all the components used in her artwork. And don't forget about those two HUGE sections of Collage Sheets on Sale!

Posted by Leslie, December 12th, 2012