It's December 10th, Day 10 of The Twelve Days of Christmas at Alpha Stamps!
On The Tenth Day of Christmas my true love gave to me… Ten Feline Fashionistas Festively Festooned by Guest Designer Teri Calia!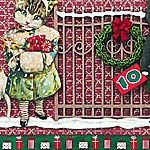 I just love how Teri collaged cat heads on children from the Little Darlings, More Cab Card Cuties and Puppies #1 collage sheets! And how she used pages from the NEW! Square Accordion Chipboard Book (she cut the book apart to give her 5 separate "canvases" to decorate… that would actually give you 6 pages if you used them all but Teri only needed 5 for her 10 kitties).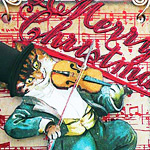 The kitties are so sweet and sassy! How about the too cute NEW! Gift-Wrapped Boxes Satin Ribbons that Teri used (both for bows on the tops of the hangers and as a strip at the bottom of the pages, for the kitties to stand on)? Simply adorable!
Speaking of adorable — have a look at Teri's Merry Catmas ATC! Isn't the NEW! Red Merry Christmas Text Dresden too fabulous for words?! (Pun intended!) And that cute Cat and the Fiddle image is from the Moon & Stars Collage Sheet (not necessarily where you'd expect to find a cat, but "… the cow jumped over the moon.")
You love it too? Then scamper on over to Teri's Blog and she will tell you how she managed to cut that flocked tree in half!
Highlights of a few items Teri used are below (plus a couple related, New! items); here's a list of all the components used in her artwork.

Posted by MizBella, December 10th, 2012