It's December 9th, Day 9 of The Twelve Days of Christmas at Alpha Stamps!
On The Ninth Day of Christmas my true love gave to me… Nine (gorgeous) Nymphs by Rhea Freitag who I'm sure are just a bit naughty! (ahh, that would be the Nymphs who are naughty, not Rhea!)
Always so clever, Rhea has created a gorgeous winter seascape out of a New! 8×8 Wooden Shadowbox and the New! 8×8 Wooden Insert – Round Windows.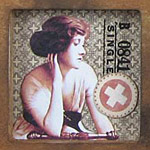 (While we're talking about 8×8 Wooden Inserts, the 8×8 Wooden Window Frame is also back in stock. Both it and the version with the round windows fits perfectly inside the shadowbox. And remember the lovely artwork Teri Calia made with it way back in May? Just a snippet is at left; see the full piece on the 8×8 Wooden Window Frame page.)
I particularly love how the Nymphs just seem to float behind each circle that is covered with Mica Tile, so calm and tranquil. Of course, my Poppets, you know that I am like a crazed magpie and love things that sparkle and shine — so how can I not love all the sparkly goodness on this piece?
You love it too? Well float on over to Rhea's Blog and she will tell you exacty how she achieved the sparkly effects as well as a few other tips for creating your own spectacular winter shadowbox!
Highlights of a few items Rhea used are below (plus a couple related, New! items); here's a list of all the components used in her artwork.

Posted by MizBella, December 9th, 2012