It's December 8th, Day 8 of The Twelve Days of Christmas at Alpha Stamps!
On the Eighth Day of Christmas my true love gave to me… what?! Yet another NEW Design Team Member with her Eight (kicking and screaming) Prima Donnas in tow?!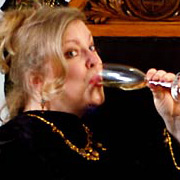 My Poppets, how can we get any luckier? Especially since it is the wickedly delightful Miz Lora Mahaffey! If you'll remember, Lora was a recent Guest Designer for the Chipboard Potion Bottle Swap and had the silly (but way spooooky) climbing skeletons on her bottles. We at Alpha Stamps are very excited that Lora has joined the Design Team!
Can you believe that the main component that Lora has used for her Eight Prima Donnas is the same Victorian Exploding Picture Box Kit that Nichola Battilana used in her project on The Sixth Day of Christmas? (Actually, it's the same design but in the medium size… which includes the inside piece that turns the 4 "petals" that fold out when the lid is removed into 8.) You can click on both pics for larger views, but many more photos are in Lora's tutorial.
I love the silly phrases Lora added to her cards, using images from the On Sale! British Queens Collage Sheets (like "Prone to fits of ennui", "Shampoos her hair with Evian" and "Bored by everyone").
Lora has also used the NEW! Candlestick Holders as part of the base of her box, giving it a very nice elevation and made envelopes out of the NEW! Pint Sized Envelopes Template to house each one of her prissy Prima Donnas. I think it turned out quite fabulous, don't you?
Preen on over to Lora's Blog to see more photos of her artwork and her Little Pocket Envelope Tutorial.
Highlights of a few items Lora used are below; here's a list of all the components used in her artwork.

Posted by MizBella, December 8th, 2012