It's December 4th, Day 4 of The Twelve Days of Christmas at Alpha Stamps!
On the Fourth Day of Christmas my true love gave to me a… Four Calling Birds Mini-Envelope Book!
It looks to me that they are more like Four Gossiping Calling Birds talking Santa's ear off! Now, I'm not one to gossip myself (!) but I am almost positive they are telling Santa about our NEW Design Team Member, Miz Kira Nichols!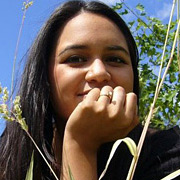 You may remember Kira from the summer when she was one of our Guest Designers for the Birds in Hats Swap. If that doesn't jog your memory, how about that Kira is the original creator of the often imitated Wicked Witch Bookmarks and her Web site is called Oops, I Craft My Pants?!
Can you think of a better holiday surprise? A brand spanking new Design Team Member as well as the sweet book of Four (Gossiping) Calling Birds that Kira created out of New and On Sale! Mini Kraft Envelopes. I just love how colorful Kira's book is and I am also am eyeballing that way cute Telephone Background Rubber Stamp and the Just Saying Hi Rubber Stamp Set (both New and On Sale!). (Hint to the Alpha Stamps Elves… please put one of each in the Bella bin!)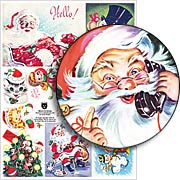 Oooh… wait! There is another holiday surprise! Kira's explosion-of-color artwork made excellent use of the New Christmas Colors of Tim Holtz's popular Distress Stains and ALL of the new colors are On Sale! That's all 12 bright, festive, vibrant colors!
In fact, EVERYTHING new on Kira's fun, little envelope book is On Sale! And, in honor of those birds calling Santa, there's also a New and On Sale! Retro Christmas Collage Sheet with a hysterical image of Santa on the phone. And a (New and On Sale!) Ransom Numbers Collage Sheet with bright numbers perfect for making The Twelve Days of Christmas ATCs!
Well, my Poppets, follow the telephone wires on over to Kira's blog so that you can learn how to make the sparkly flower embellishments that Kira used on her book! (You may also want to congratulate her on being the newest member of the Design Team!)

Posted by MizBella, December 4th, 2012