It's December 3rd, Day 3 of The Twelve Days of Christmas at Alpha Stamps!
On the Third Day of Christmas my true love gave to me… Ridiculously cute Three Kids a'Gifting by Kristin Batsel!
Oh, wait. I have my own ridiculously cute kids. If only the my three could decorate a Retro Bottle Brush Tree that sweetly — without fighting — it would be wonderful indeed! Unlikely, but wonderful.
Did you notice that sweet elf on the 2 Inch Wooden Spool spreading his holiday cheer? Forget that mass-produced Elf on the Shelf — make yourselves an Elf on a Spool, my Poppets.
And note: the elf can hold different cards (and all the variations can be kept in the decorated tin)! Kristin has shown examples of him:
– Holding a gift card,
– Holding a placeholder for your holiday dinner table, and
– Holding a little Countdown to Christmas Card

And if you don't need an elf to sit on your table, use him to decorate your Christmas tree!
Put on your candy cane skis and trek on over to Kristin's blog to find out how to create your own adorable Three Kids a'Gifting!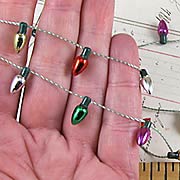 Highlights of a few items Kristin used are below, including the Blank Altoids Tins!); and here's Kristin's full Supply List.
And (bonus!) Kristin created a coordinating ATC (at left). Kristin also used the kids from the Little Darlings Collage Sheet (that Nichola used in yesterday's project, but Nichola turned them into fairies so they looked much different). Learn more about the ATCs being created for The Twelve Days of Christmas.

Posted by MizBella, December 3rd, 2012