Note: most of the links on this post no longer work, as we moved to a new Web site in 2018. But you can try searching on the same names (as links below) on the new site.
I see… in your future… that you will want to make a Fortune Telling Machine after seeing the tutorial created by Laura Carson!
Poppets, you are in for a double treat! That Laura Carson is crazy creative! Not only is there a video tutorial, but Laura has also created a companion, printable tutorial for the video!
You would never know that the main component of Madam Rue's Fortune Telling Machine is a Blank Altoids Tin.
A couple of my favorite parts of the machine: the table she created from a component normally used on the outside of a shadow box, and the little fortune hanging out of the slot. No, I won't tell you how Laura made the table or the fortune slot. You'll just have to view the tutorial yourself!
In honor of the Gypsy Fortune Teller Swap, all of the gypsy-themed components for Laura's tutorial are On Sale! YAY! Here are some of those sale elements that Laura used to create her fabulous Fortune Telling Machine:
– Palmistry Collage Sheet
– Gypsy Fortune Teller #1 Collage Sheet
– Gypsy Beauty Collage Sheet
– Red Labels Collage Sheet

– Fortunes Collage Sheet
– Weekend Paper 6×6 Pad
– Iridescent Star Mix
– Gypsy Coin Mix

AND all of these items that Laura used (not already on sale
via the Gypsy Theme Sale) are On Sale(!) but only through Sunday, August 19, 2012!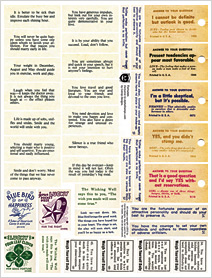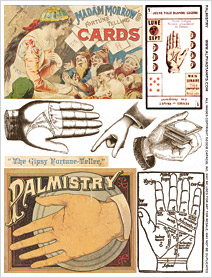 – New! Mini Arched Chipboard Pennants
– 5mm Metal Rondelles
– Blank Altoids Tins
– Raw Brass Box Feet – Cones
– Metallic Stickers – Bows & Vines
– Thin Looped Dresden Borders
– Small Brass Arrows for Spinning
– Filigree Cone Bead Caps
– Thin Ornate Filigree
– Distress Ink Pad – Vintage Photo
Note: Here's a quick link to view all of the short-term sale items on one page.
The full supply list, video link and tutorial can be found on Laura's blog.

Posted by MizBella, August 16th, 2012