Design Team Member Shannon Tuttle has created a lovely Gypsy Fortune Slider Box and has also provided a step-by-step tutorial!
I don't even know where to start, as to what my favorite parts are! I think you can see from the 3 photos at left, that the card in the lower right (which is beautiful all by itself), pulls out of the thin box Shannon built to house it via a Fluted Ring Pull.
Shannon did a beautiful job using a Distress Ink Pad to antique the pieces and stamp a Phases of the Moon Rubber Stamp on the back of the box (shown at right), that resembles a henna tattoo.
(Back to the front of the card, at left) Shannon also antiqued the large Gold Crescent Moon Dresden (that looks like it might actually be metal) but this time using Gilders Paste – Black.

Before you view Shannon's tutorial, please read below about the Gypsy Fever Blog Hop, Part 2! drawing to win over $100 of art supplies chosen for the Gypsy Fortune Teller Swap! Here are some of the other Gypsy Theme Sale Items Shannon used (that are also included in the drawing package):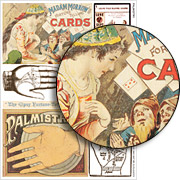 – Weekend Market 6×6 Paper Pad
– Concertina Chipboard Pennants
– Phases of the Moon Rubber Stamp
On this topic, I'll have to quote a bit from Miz Bella's post:
"We are having Gypsy Fever Blog Hop, Part 2! Yes, yes it's true! If you participated during the first Gypsy Fever Blog Hop a couple of weeks ago, you already know how much fun it is to play!

"Why a Part 2, you may ask? Well, so that you can have the chance to see (and learn secrets about) more gypsy art by our Design Team Members, win prizes from our Design Team Members and a chance to win $100 of goodies from Alpha Stamps! (Wow – see that photo, below right!)

The Blog Hop runs from Thursday, August 2nd – Sunday, August 5th (the winner will be contacted by email plus posted on the blog on Monday, August 6th). Good luck!
Even if you're not feeling lucky, here are some more items from the drawing prize that were just put on sale! (But only on sale through Sunday, to coincide with the end of the Blog Hop.)
– All Hallows Eve Sharp Dressed Man Scrapbook Paper (NEW)
– Asian Fusion Scrapbook Paper (NEW)
– Wood Numeral Blocks (NEW)
– Phantom: Devious Scrapbook Paper
– Fall Pear (Edens Symphony) Scrapbook Paper
Posted by Leslie, August 2nd, 2012