Note: most of the links on this post no longer work, as we moved to a new Web site in 2018. But you can try searching on the same names (as links below) on the new site.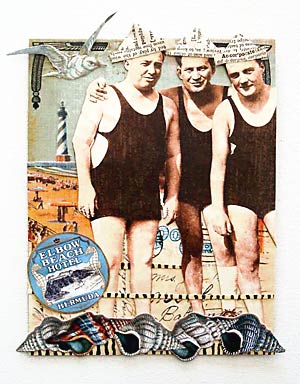 We're hosting a "Wish You Were Here" Beach Postcards Swap using the new Kraft Postcards.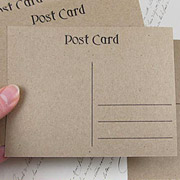 You will not believe what the Design Team has created with the limited materials I provided! Like the fun sample postcard at far right, by Nichola Battilana.
You could interpret the swap theme as a summer vacation (at the beach),
or beachy scenes (frolicking in the water, building sandcastles or sunning on the beach), or a scene from a beach destination (the shore, a scenic shot, or the boardwalk).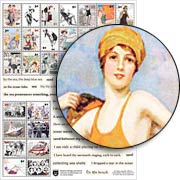 This swap will be 5 for 5: create 5 different postcards and receive 5 in return, all by different artists! Artwork will be due June 18, 2012.
And beside the NEW Beachy Postage & Words Collage Sheet, shown at left, ALL of the Beach Collage Sheets are on sale! And are available as digital downloads!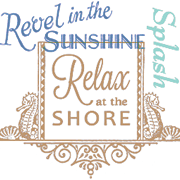 And there's a HUGE Beach Swap Supplies Sale (including a fabulous NEW Art Deco Beach Rubber Stamp Set designed specifically for this swap – and just a tiny portion of the 16 stamps in the set are shown at right)!
View more art samples in the Wish You Were Here Beach Postcards Swap Gallery!
More info about the swap. (And lots more art samples!)
And don't forget to look below for more beautiful artwork from the Design Team!


Posted by Leslie, May 3rd, 2012