Note: most of the links on this post no longer work, as we moved to a new Web site in 2018. But you can try searching on the same names (as links below) on the new site.
Here we have yet another fantabulous creation by Design Team Member Laura Carson — not one but two picture stands! Of course, since Laura created them you know these are not just any normal picture stands. These picture stands are made out of Chipboard Shoes! Adorable Chipboard Shoes, an Ornate Name Plate, Silk Ribbons, and embellishments make up these sweet frames. The best part of it all is that most of the items used to create the stands are on sale!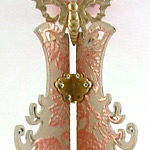 In honor of Laura's art, the entire Tracy Roos Collage Sheets Section has been put on sale! (Plus we've just finished converting them all to digital downloads!) Beside the image from the Drama Queens Collage Sheet (used on Laura's collage in the frame at far right), there are Tintypes, Santa Postcards and Shell Postcards to choose from (see below for more options).

Before you run over to Laura's blog to learn some secrets, look below for some new items on sale and see the last newsletter for more info on the Almanac 6×6 Paper Pad (with a NEW lower sale price(!) and some other highlighted items used in Laura's artwork) — all on sale through this Saturday, March 17th.
Tell me, my poppets, HOW does Laura consistently come up with all of these amazing projects?
I have wracked my slightly demented brain over this question and have yet to come up with exactly how she is able to do this. Perhaps you know?! Have some silly fun! Be sure to leave a comment as to how you think Laura comes up with all of her creations and be entered to win a free Alpha Stamps Collage Sheet via digital download! Winner will be picked on March 22, 2012 (you have until midnight, March 21, 2012 to post a comment).
Laura's easy to follow tutorial, links to all of the products used from Alpha Stamps and a PDF version of the tutorial are on her blog, Artfully Musing. Enjoy the tutorial and if you make a Chipboard Shoe Picture Stand, be sure to let me know so that we can put your creation up on the Alpha Stamps blog!

Posted by MizBella, March 15th, 2012