Note: most of the links on this post no longer work, as we moved to a new Web site in 2018. But you can try searching on the same names (as links below) on the new site.
Plus new stamps, charms, hinges…
Before I tell you about Design Team Member Laura Carson's fabulous Carnival artwork at right, don't forget to stroll down the length of this newsletter to see back in stock items (some a long time coming!), new (silicone) stamps, new antiqued silver charms, and reminders about 2 sales ending tonight!
Just in time for Carnival (Mardi Gras to most Americans) Laura has created this wonderful standing collage/assemblage. Click on either photo to get more info.
AND in honor of Carnival, the entire Venice/Carnival Theme Section has been put on sale! (That's huge! With stamps, tons of collage sheets — all available digitally, too — ribbons, dresden, shiny bits, charms…)
Plus, while I was wandering around remembering/admiring the artwork from the 2 Venetian-Carnival themed swaps we hosted in 2010, I happened on this (even older but still good eye-candy) link to Harlequin/Pierrot/Punch/Toy Theatre Links.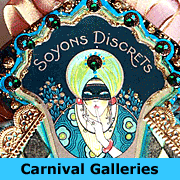 Speaking of the 2010 Carnival-Theme Swaps, I also found the template (pdf file) for the Mini Masquerade Mask (in case you feel inspired to make some miniature masks of your own).
And don't forget: there a Venetian Carnival Board at Pinterest showcasing Carnival art from Design Team Members and swap participants.
Whew! Go get inspired and get ready for Fat Tuesday!

Posted by Leslie, February 23rd, 2012