Hey, it's Day 7 (the final day) of the "While the Cat's Away…" Giveaways! And today's theme is Alice in Wonderland! And I have to say: I think I've saved the best for last. I love the colors in the new Engraved Garden collection (not specifically designed to be used with Alice in Wonderland, but with those flamingos (and fans and oddities like a sofa apparently in an overgrown Victorian jungle/greenhouse) I couldn't resist.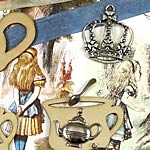 I went a little crazy and took extra photos, so click on all the photos in this top/overview section to see more details.
And why are those bottle caps in the kit? Because Design Team Member Kristin Batsel create a great little tutorial on making Bottle Cap Jewelry.

Here's my final recap of how this works: I've gathered new (and current) items around a theme. All of them are on sale for everyone. And I've pulled together a lovely Giveaway Kit made from those goodies that will be awarded to one lucky person (click on the photo at right to see even more of the today's Giveaway Kit).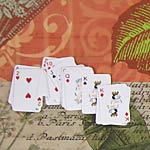 To enter the Alice in Wonderland Giveaway drawing all you have to do is leave a comment on this blog post (don't forget to leave your email address, too, so I can contact the winner; note, your email address does not need to be made public).
After midnight I'll randomly pick the previous day's winner.
More info on the Holiday Closure & Giveaway Rules (including how you can get entered twice in each day's drawing).
Note: all the indented items below are included in the Giveaway Kit. There are some additional (related) things just(!) put on sale that are not in the Giveaway Kit (down at the bottom of this page). Some of the additional sale items are new, too!
New & On Sale
(and included in the Giveaway Kit)
Not New to the Site, But Newly On Sale!
(and included in the Giveaway Kit)
Three Collage Sheets (on cardstock):



(And the entire Alice in Wonderland section of collage sheets are on sale and are now available as digital downloads!)


Gold Alphabet Crowns Rub-Ons
Metallic gold rub-ons. Crowns are almost 1″ wide each (entire sheet is 4-1/2 x 7″).


Silver-Plated Teacup, Teapot, Spoon
Available as a set of 3 (1 cup, 1 teapot & 1 spoon) or 4 cups, 4 teapots or 4 spoons. One was used in Kristin's bottle cap sample, above. The set of 3 is in the kit.


Halloween in Wonderland: Tea Party Scrapbook Paper
A wonderful smash-up of Halloween and Alice in Wonderland (with a vague bit of The Wizard of Oz). The "Tea Party" sheet has a green background with images from the tea party scene and Alice's adventures in getting to the party (and a pattern of green teacups on the back).


3 colors of seam binding:
Grey Blue, Serbin Brown, Soapstone Beige

Mini Playing Cards
24 cards; 4 each of 2s, 10s, face cards.

Firecracker Scrapbook Paper
12 x 12″ paper with a wild, swirly (fairly monochrome) pattern.


Bottle Caps
(Set of 10)

Alice Tea Party Rubber Stamp Set (unmounted)
Lots of Alice in Wonderland images about eating and drinking. 9″ x 6″ sheet (a much bigger set than the images shown here).


Tea Party Wood Flourishes
Fun, laser-cut designs (2 teacups, 2 teapots). 4 separate pieces. 1/16″ thick masonite.

1/8 Inch Drapey Ribbons – Burnt Orange
100% polyester but very soft. Imported from France.

3/8 Inch Olive Striped Ribbon
Pretty green/ivory striped ribbon with a crinkly texture (woven, not printed stripes).

Related Sale Items
(not included in the Giveaway)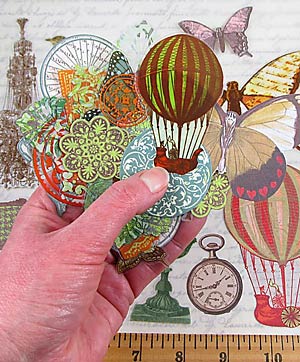 Engraved Garden Ephemera Pack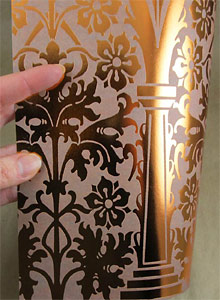 (at left)
New & on Sale! A mix of die-cut cardstock and printed transparencies (plus a couple puffy, 3D pieces) in a Victorian illustration meets steampunk meets Alice in Wonderland design. I love the hot air balloons and the odd plaid sofa (and don't forget the flamingo). Also includes numerous butterflies, 2 bicycles and a pocket watch.
Set of 63 pieces.
Engraved Garden Copper Foil Scrapbook Paper
New & on Sale! Copper-foiled 12″ x 12″ cardstock sheet with almost gothic-arches (like trellises or windows in a greenhouse).

Engraved Garden Bird Shimmer Vellum
New & on Sale! 12″ x 12″ vellum (semi-transparent).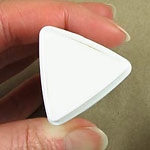 Tacky Glue Stick
New & on Sale! Such a simple solution: triangular shape for full coverage on corners!
Aleene's is a great all-purpose glue for craft projects. The quickest and easiest solution for adhering lightweight items together (like those bottle caps).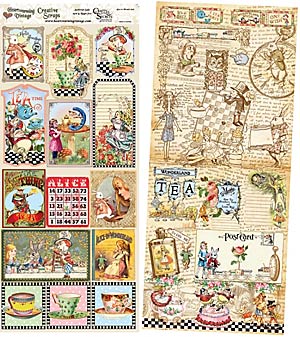 Wonderland Tea Scrap Sheet
Double-sided cardstock, printed with lots of images of Alice, the tea party, teacups, the White Rabbit and the Mad Hatter from Alice in Wonderland. Perfect for gift tags or collage.
8″ x 19″ sheet (folded in half for shipping). Note: These are not die cut or perfed; you'll need to cut out the images (but most of the images are laid out so when you cut out the pic on one side, a full image automatically gets cut out of the reverse side; perfect for tags where both sides will show).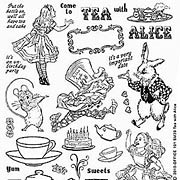 Tea with Alice Clear Stamp Set
6″ x 8″ set with 29 separate stamps. The story characters, along with many small accent stamps and sentiments, such as "it's a very important date' and "it's an un-birthday party', are perfect for creating scenes on your projects. Many of the characters can 'hold' things like the tea tray, cake or teapot.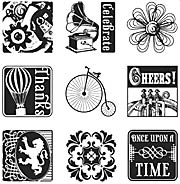 Once Upon a Time Clear Stamp Set
Set of 9 "inchie" clear stamps (1″ square) plus an acrylic mounting block. Use one image repeatedly for a background (or mix some for a checkerboard effect, skipping every-other square).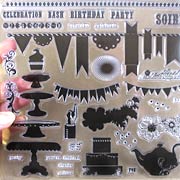 Soiree Clear Stamp Set
8″ x 8″ set of clear stamps with tons of images for a tea party (or birthday party) or just fun banners to add text across the top or corner of a collage.
Includes separate little words like "birthday", "party", "bash" and "soiree" (and a teapot, cupcake, cake, multiple cake stands and a candle). 37 stamps in the set!

Giant Crown Rubber Stamp
The unmounted version is part of the 99 Cent Stamp Sale!

Here's the recap of the Giveaway Rules. And check yesterday's post for some "Cats & Kittens" items that are still on sale.
So leave me a comment and tell your friends. And Happy New Year!
Posted by Leslie, January 1st, 2012