Note: most of the links on this post no longer work, as we moved to a new Web site in 2018. But you can try searching on the same names (as links below) on the new site.
Hey, it's Day 6 of the "While the Cat's Away…" Giveaways! And today's theme is Cats & Kittens. And, oh my, is this stuff cute or what? Close to center-stage in the photo is the new Puss in Boots Rubber Stamp (sized for ATCs but stamped on the largest size tag from the 12 Mixed Manila Tags). (And click on the photo to see more details.)
More on the specifics below, but first a recap. Here's how these themed days will work: I've gathered new (and current) items around a theme. All of them are on sale for everyone. And I've pulled together a lovely Giveaway Kit made from those goodies that will be awarded to one lucky person.
To enter the Cats & Kittens Giveaway drawing all you have to do is leave a comment on this blog post (don't forget to leave your email address, too, so I can contact the winner; note, your email address does not need to be made public).
After midnight I'll randomly pick the previous day's winner.
More info on the Holiday Closure & Giveaway Rules (including how you can get entered twice in each day's drawing).
Note: all the indented items below are included in the Giveaway Kit. There are some additional (related) things just(!) put on sale that are not in the Giveaway Kit (down at the bottom of this page).

On Sale! (and included in the Giveaway Kit)
Note: I'm explaining the Giveaway in a slightly different fashion than the others this week… so here is a link to ALL of the goodies in the kit (all of which are on sale) with a few highlights below.
2 New Puss in Boots Collage Sheets
New & on Sale! Too cute! And one includes the color illustration that we based the new rubber stamp on.


(And the entire Children's Book Illustrations section of collage sheets (a really big section!) is on sale and those collage sheets are now available as digital downloads!)


Puss in Boots Rubber Stamp
Isn't he adorable? I love the cavalier costume. (And don't you think men should wear lace on their boots again?)


And also included in the kit, there are:
3 scrapbook papers,
3 seam bindings,
a set of manila tags,
2 more collage sheets,
cat beads,
a cat clasp,
"3 Kittens" transfers,
and some black cat sequins (shown at left)… but I'm pressed for time so here's a repeat of the link for ALL of the goodies in the kit! Thanks!

Related Sale Items
(not included in the Giveaway)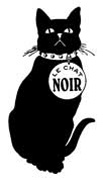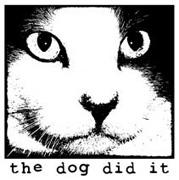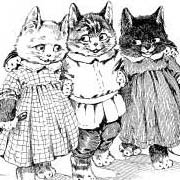 Lots of Adorable Cat Rubber Stamps!
Some are rarely on sale (like "The Dog Did It" at far left) and some are back in stock (like the "Three Little Kittens" at left). And four of these stamps are on 99 Cent Sale (like the "Chat Noir" at right)! (Here's a link to all of the 99 Cent Sale Stamps).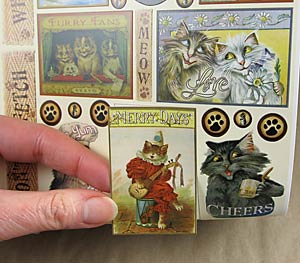 Cat Crazy Stickers
6″ x 12″ sheet of die-cut cardstock stickers.
31 separate stickers.
Warning: some really bad puns.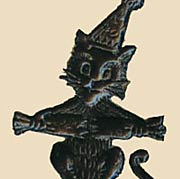 Black Dresden Party Cats
2″ tall; with party hat and opening a Christmas cracker.

Here's a link for ALL of the related sale items!


Here's the recap of the Giveaway Rules. And check yesterday's post for "The Circus" items that are still on sale.
So leave me a comment and tell your friends.
Posted by Leslie, December 31st, 2011