Note: most of the links on this post no longer work, as we moved to a new Web site in 2018. But you can try searching on the same names (as links below) on the new site.
Hey, it's Day 5 of the "While the Cat's Away…" Giveaways! And today's theme is The Circus — a perennial favorite! (I bet you'd never guess by the amount of circus ephemera I collect!)
Beside clicking on the photo at right to see even more details of today's kit, check out the cute altoids-tin circus car (below) by Design Team Member Kristin Batsel that helped me tailor the kit (almost everything Kristin used in her tin is included in today's Giveaway). Click the photo for a larger view or here for more details.
Here's how these themed days will work: I've gathered new (and current) items around a theme. All of them are on sale for everyone. And I've pulled together a lovely Giveaway Kit made from those goodies that will be awarded to one lucky person.
To enter The Circus Giveaway drawing all you have to do is leave a comment on this blog post (don't forget to leave your email address, too, so I can contact the winner; note, your email address does not need to be made public).
After midnight I'll randomly pick the previous day's winner.
More info on the Holiday Closure & Giveaway Rules (including how you can get entered twice in each day's drawing).
Note: all the indented items below are included in the Giveaway Kit. There are some additional (related) things just(!) put on sale that are not in the Giveaway Kit (down at the bottom of this page).

Not New to the Site, But Newly On Sale!
(and included in the Giveaway Kit)
Five Circus Collage Sheets
A colorful group including the Tiny Circus sheet that I happen to know if Kristin's fave.


(And the entire Circus/Clowns section of collage sheets (really big section!) are on sale and are now available as digital downloads!)


Die-Cut Tags and Two Scrapbook Papers from the Le Cirque Collection! (Yes, those are little elephants riding bicycles on the near photo!)

And the entire Le Cirque Collection is on sale (that includes the cling-mounted stamp set, too)!



Two More Scrapbook Papers:

Orange Foil Ledger Scrapbook Paper
12″ x 12″ single-sided scrapbook paper with metallic copper foiling.

Circa 1934: Garbo Scrapbook Paper
12 x 12″, double-sided cardstock printed with a fun alphabet print against a pretty green background (with subtly distressed edges).



Two Exclusive Alpha Stamps Rubber Stamps (both unmounted):

Circus Alphabet Rubber Stamp Set
The entire sheet is approx. 8″ x 3″; the individual letters are 1/2″ tall. Snippet of a circus book page at left is also by Kristin.

Scary Clown Rubber Stamp
Sized to bleed off an ATC (to run off the left, top & bottom edges). Also large enough for the side of a standard envelope.

Approx. 1-1/2″ x 4″ (cropped in this scary photo)


And five circus stamps are now on sale!
PLUS five (different) circus stamps are on 99 cent sale!



Four items specifically chosen for this kit (via Kristin's tin… and remember, these are all on sale!):

Wood Flourish Frames
Ornate frames laser-cut from 1/6″ thick masonite.

3 per package.

Blank Altoids Tin
Approx. 3-3/4″ x 2-1/4″ (x 7/8″ deep).


Bakers Twine
Simple and sweet. Twisted red and natural, 4-ply twine.

Alphabet Baby Beads
A large bag of mixed letters (200 pieces).

Sold out but included in the Giveaway Kit
Artsy Banner Clear Stamp Set
A large set (21 stamps) with some great borders, text texture, music, faux postage and banners (awning fringe?) with lots of possibilities.

Related Sale Items
(not included in the Giveaway)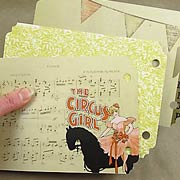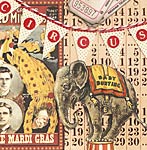 The entire Afternoon Muse Collection is on sale (that includes the Chipboard Album shown at left, and the Clear Stickers shown at right, too)!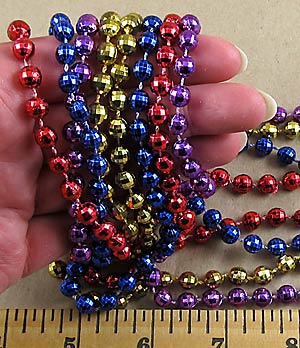 Mardi Gras Beads
Acrylic, 7mm faceted-look rounds on 33-inch continuous loop (not separate beads… beads were formed around the string though you can cut them apart to use them separately).



Here's the recap of the Giveaway Rules. And check yesterday's post for the "Blue Birds/Paris" items that are still on sale.
So leave me a comment and tell your friends.
Posted by Leslie, December 30th, 2011