Note: most of the links on this post no longer work, as we moved to a new Web site in 2018. But you can try searching on the same names (as links below) on the new site.
Hey, it's Day 2 of the "While the Cat's Away…" Giveaways! And today's theme is Printery. Designed to look like antique pages from a Victorian printer's spec sheets. I love the muted sage-y greens, faint aqua blue and chamois colors in this palette! Plus a big helping of black (fairly distressed so more like a dark French roast coffee brown). And I went a little crazy and took extra photos, so click on all the photos in this top/overview section to see more details.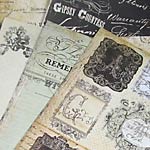 AND, I'm doing an experiment: I've created a new poll (in the right column) about whether any of you would be interested in a Printery Kit (a kit with all of things in it from today's Giveaway Kit, but that you could go buy all at once). It would be a offered for a limited time (and based on this week's sales, some items might need to be substituted… but that would be explained if/when the time comes).

Back to this Giveaway and how it works: I've gathered new (and current) items around a theme. All of them are on sale for everyone. And I've pulled together a lovely Giveaway Kit made from those goodies that will be awarded to one lucky person.
To enter the Printery Giveaway drawing all you have to do is leave a comment on this blog post (don't forget to leave your email address, too, so I can contact the winner; note, your email address does not need to be made public).
After midnight I'll randomly pick the previous day's winner.
More info on the Holiday Closure & Giveaway Rules (including how you can get entered twice in each day's drawing).

Note: all the indented items below are included in the Giveaway Kit. There are some additional (related) things just(!) put on sale that are not in the Giveaway Kit (down at the bottom of this page). Some of the additional sale items are new, too!
New & On Sale
(and included in the Giveaway Kit)
Eight Printery Scrapbook Papers
New & on Sale! I think you've already gathered how I feel about this collection! 12″ x 12″ double-sided (heavy) cardstock sheets.



Not New to the Site, But Newly On Sale!
(and included in the Giveaway Kit)
Frames & Silhouettes Collage Tape
Sweet silhouettes of chairs, tables & picture frames on a tape with a light tack (it won't tear your papers if you need to readjust placement).

Each package includes two rolls of paper tape (approx. 20 yards total). 5/8″ wide.

Bonus: they're on plastic spools that fit standard tape dispensers.

Numbers Rubber Stamp Set
27 (!) separate stamps. All kinds of things with numbers: pocket watches, thermometer, roulette wheels, game spinner, steam pressure gauge. Plus some ornate numerals. The smaller numbers are in one block, perfect for adding background texture (in 2 different sizes).


Large Brass Key
Raw brass stamping (so concave on the back).

Artwork at left by Design Team Member Teri Calia.



Four Ribbons:
Tan Measuring Tape Twill Tape,
7/16 Inch Striped Sage Green Grosgrain,
Metal Green Seam Binding (and the other colors from that "Summer" group are on sale, too),
7/16 Inch Brown ZigZag Twill (ditto: the other chevron/twill ribbons in that group are on sale)


Caroline Otero Collage Sheet
Beautiful star of Les Folies Bérgere. More info here.


(And the entire Tallulah's section of collage sheets are on sale and are now available as digital downloads!) Some of these images are a little risque so be warned if you're easily offended.

Related Sale Items
(not included in the Giveaway)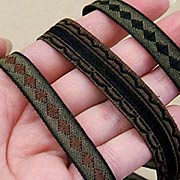 Vintage Jacquard Ribbons
New & on Sale! Rare vintage jacquard ribbons; imported from France. I'm not positive but I'd guess they're linen with rayon accent stitching.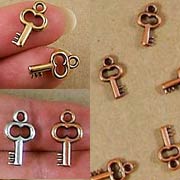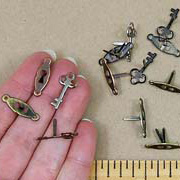 Seven More Metal Keys:
Large Brass Key Charms,
4-Leaf-Top Keys,
Fancy Key Charms,
Double-Sided Key Charms,
Lock & Key Brads,
Lightweight Keys,
Skeleton Keys

Green & Brown Scrollwork Twill Tape
1/2″ wide printed cotton twill tape. Sold by the yard.

Three Scrapbook Papers with a Brocade Pattern:
Black on Black Brocade Paper,
Pearl Gold Brocade Scrapbook Paper,
Haven: Album Scrapbook Paper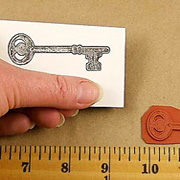 Skeleton Key Rubber Stamp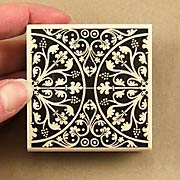 Antique Mosaic Rubber Stamp
New & on Sale! Beautiful, intricate (repeatable) pattern. Wood-mounted only.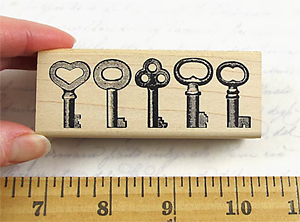 Keys Rubber Stamp
New & on Sale! Set of 5 skeleton keys, all mounted together as a group (for use as a border or a repeating fill pattern). Each key approx. 1″ tall and 1/2″ wide (or a tad bigger). Wood-mounted only.


Here's the recap of the Giveaway Rules. And check yesterday's post for some "Beach" items that are still on sale.
So leave me a comment and tell your friends.
Posted by Leslie, December 27th, 2011