Note: most of the links on this post no longer work, as we moved to a new Web site in 2018. But you can try searching on the same names (as links below) on the new site.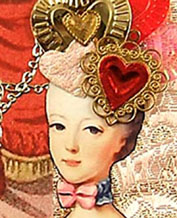 Get ready to have your eyeballs spanked! Alpha Stamps' Guest Designer Laura Carson has created some absolutely amazing, finely detailed, jaw-dropping, circus-themed pieces for us!
We discovered some of Laura's creations when we were reviewing artwork in the Alpha Stamps Gallery. Not only did it pop out and slap us silly, but it also was so detailed that we immediately hunted her down and asked if we could use her lovely Marie Antoinette ATC for an upcoming print ad! (Yes, we were that impressed!)
Laura's blog, Artfully Musing is, as expected, fabulous. Chock full of inspiration, containing pictures not only of her artwork, but shared artwork from various art groups that she participates in as well. Also shared are assorted techniques and she is very helpful by listing products that she's used in her creations. If the eye candy and shared techniques are not enough to get you to go and visit her blog, she also hosts a monthly give-away where readers have a chance to win one of her pieces of art!
Laura created a double-sided Circus Train for Alpha Stamps that is so cute!
Supplies
– Circus-Themed Collage Sheets
– Arched Chipboard Pennant
– Medium Wooden Spools
– Star Tinsel

Click HERE to see the other side of Laura's Circus Train.
Look at these adorable Circus Train Cars! I think my favorite car has to be the 'Tiniest Show on Earth' with the elephants. (Yes, I do love elephants!) How about you? Which one is your favorite?
Supplies
– Circus-Themed, Small Nouveau Theatre and Red Slide Mailer Curtains Collage Sheets
– Blank Altoid Tins
– Medium Wooden Spools
– Tiny Faux Ring Handles
– Bakers Twine

Wow! Wait until you see the full sized pictures of the Big Top by clicking on either picture to the left or the right! You have to see it to appreciate all of the detail that has gone into it.
Supplies:
– Circus-Themed Collage Sheets
– Arched Chipboard Pennants
– Dresden
– Mardi Gras Beads
– Circus Alphabet Rubber Stamp Set
– Le Cirque 8×8 Paper Pad
Click HERE to see the backside of Laura's incredible Big Top!

To see more of Laura Carson's creations, please visit the Guest Designer Gallery.
Posted by MizBella, June 18th, 2011