Lynda Roddy Ozzauto, Illinois, USA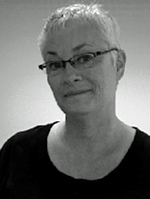 Being an artist all my life I have worked in many different media — including watercolors, pencil, charcoal, silk screen, fabric, rubber stamping and collage. I've designed women's knitwear, done murals and portraits and have taught painting, drawing, knitting and design for 20+ years. I am relatively new to collage and started doing ATCs about two years ago and was immediately hooked! I'll use any excuse to buy art supplies and have tried most of the products out there. I have a sewing machine, two knitting machines and a closet full of paper and collage supplies.
I started a blog earlier this year and am honored to be part of the Design Team at Alpha Stamps.
See some examples of Lynda's artwork.

Posted by MizBella, June 15th, 2011