Note: most of the links on this post no longer work, as we moved to a new Web site in 2018. But you can try searching on the same names (as links below) on the new site.
So many things have arrived this week, mainly from orders placed in January at CHA (the Craft and Hobby Association's Winter show). So grab a cup of your favorite morning beverage and take a break.
New Tim Holtz-Designed Supplies
Timepieces
Set of 5 vintage-inspired watch faces designed by Tim Holtz. Fairly heavy… not lightweight stampings. Flat on the back.
Adornments Charm Pack

Set of 8 beautiful, antique silver charms. Flat on the back. 2 birds, a fleur de lys, wings, a star, a heart and 2 crowns.
Foundations (Box Feet)
Set of 4 vintage-inspired box feet designed by Tim Holtz. Again, fairly heavy… not lightweight stampings. Shown with a Jumbo Diorama Box. The feet can be glued on or nailed/screwed on (there are holes in the bottom).
Brass Box Feet
(Not by Tim Holtz, but while we're looking at box feet…) Set of 4 lightweight, ornate, raw brass feet. Shown with a Large Deep Diorama Box. The feet can be glued on.
Locket Keys

Set of beautiful, antiqued escutcheons, keys & tiny nails/brads designed by Tim Holtz. Fairly heavy… not lightweight stampings. Escutcheons (key hole plates) are flat on the back; keys are 3D. 4 keys, 4 escutcheons, 8 matching color nails.
Oddities Cling-Mounted Stamp Set

An engraving of an eye, an eye chart, a bee (or wasp?) and a fortune teller's palm reading chart.
Four separate cling-mounted stamps. Comes on a plastic sheet (for storage). Overall size is 7″ x 8-1/2″ (the eye chart is 4-1/2″ tall).
Paper Dolls
5 Paper Doll Clear Stamp Sets
They coordinate with the each other (and the stamps in the Marie Antoinette Jumping Jack Stamp Set are also in the same scale). As there are lots of Harlequin diamond patterns, the images from the Venice Theme Page would look great with them, too.
4 Paper Doll Collage Sheets
Clothes (& arms & legs & faces) sized for the Paper Doll Clear Stamp Sets (just mentioned). 3 of the new sheets were designed by Teri Calia, so, well… they're all cats.

4 Faces Stamp Set

While we're on the subject of paper doll stamps…
What a bunch of cuties (with expressions from happy to amazed to disgusted)! I imagined them stamped on Easter eggs to make Humpty Dumpty figures. Or maybe for a cloth doll, the sun or the Man in the Moon. Each approx. 1″ wide. The mounted version comes on a cube.
New Dresden
Acanthus Leaf Decorations
Elegant and beautifully detailed. Set of 11 large and 4 small. Entire sheet is 4-1/2″ tall.
Tent Curtains
(Shown in the large photo at right.) 4 sets of curtains: 4 curtain tops and 4 post bottoms (and double-sided, so foiled on both sides). One of the curtain tops is 2″ wide.
They'd make lovely curtains for an ATC (or 4 ATCs).
Fringed Curtains
I love the tassel details. 3 sets of curtains: 3 curtain tops and 3 bottoms (and double-sided, so foiled on both sides). One of the curtain tops is 3-1/8″ wide. They'd make lovely curtains for a diorama box.

Red Foil Roses
Very red roses. Set of 4 small and 6 large sprays. Each large rose spray is approx. 3-1/4″ tall.
Blue Rosettes
Set of 4 (2 each of 2 designs). Each is approx. 1-5/8″ diameter. Double-sided (blue on the back side) although the embossing would be debossed.
Blue Doves
Set of 5 large doves, 3 small doves and 3 small flowers. The entire sheet is approx. 4″ wide.

Black Swans
Matte black. Set of 9 swans.

Gold Dresden Rabbits
Set of 6. Approx. 2-5/8″ tall.
Gold & Black Corners
Use for corners around a photo, or just as decoration. Each corner approx. Sets of 12 corners, each 1″ x 1/2″. Also available in bronze.
Turquoise Grapevine Border
Set of six 7″ long strips (each approx. 1/2″ wide).


Filigree & (Metal) Flowers
Large Fan with Flowers
Beautiful, antique-gold colored metal fan. Necklace by Design Team Member Teri Calia.
Round Filigree Beads
Ornate, finely detailed, 14mm Filigree Bead opens to a 35mm setting. Use as a bead or a bead/cabochon wrap.
Morning Glory Heart Filigree
Beautiful, leafy, Art Nouveau-inspired filigree in solid brass with a vintage patina. 30 x 28mm. This design is like half of the Double Vine Filigree.

Filigree Butterfly
Beautiful, large, ornate filigree. 48 x 40mm. It can be use "as is" (without bending it) or you can bend it around a cabochon or other object.
16mm Filigree Bead Cap
Ornate, finely detailed, 16mm Filigree Bead Cap opens to a 20mm setting. (Shown hammered flat in the earrings at left; also shown in the butterfly bracelet at right.)

16mm Round Beads – 6 Designs
Multiple designs, all sized for the 16mm bead caps. From foiled resin to glass pearls to agate & magnesite.
Butterfly Stamping
Beautiful, open-work brass stamping in a vintage patina finish. 35 x 21mm. Shown wrapped around a cabochon at right, but can be left flat.

Heart Leaf Charms
Antique brass ivy leaf charms, with a hole for hanging. 1/2″ wide.
Magnolia Bead Caps
Beautiful, large-ish, antique brass bead caps. 18mm; opens to a 41mm setting or embellishment. The earrings in the large photo are by Design Team Member Teri Calia (also using Purple Iris Rosary Chain, Etched Cable Chain and Vintage Brass Ear Wires.

Tulip Bead Caps
Beautiful, large bead caps in 3 finishes: vintage brass patina or antiqued silver- or gold-plated brass. This 3-D flower has individual petals that can be moved. You can adjust the petals to fit the bead. 15 x 22mm.
Vintage Brass Lobster Clasps
10x5mm.
Red Medium Glass Trumpet Flowers
Clear glass beads. 7mm x 9mm. Imported Czech glass.
16mm Open Round Cloisonne Beads
Beautiful, open-design Cloisonne beads; enamel and gold-plated brass; 16mm diameter. Cloisonne is an ancient metalworking technique. Cloisonne beads are created by affixing a metal wire to the base bead to act as a color separator. A powdered colored glass enamel is then painted between the partitions and then fired to melt the glass.

A Few More (Paper) Flowers
Windsor Roses
4 amazing velvet roses. They are mottled from pink and red to a sunset-y orange and purple and have pinked edges. They'd be beautiful on a hat, too. Approx. 1-3/4″ diameter.

Gallery Roses
6 beautiful, layered mulberry paper flowers with stamens. Ruffle the layers and form the flowers for just the right look. 3 sizes (approx.): 2-1/4″ (1 per pack), 1-3/4″ (2 per pack) and 1″ (3 per pack).

Velvet Leaves: Vineyard

A bit darker than the Velvet Rose Leaves (and more olive than sage green). Approx. 24 pieces. 3/4 x 1-1/4 to 1-1/4 x 2″
Paper Leaves: Jade
Embossed mulberry paper leaves in a sage green (with a bit more blue in the hue than the sage in my kitchen) with just a tinge of a rosy pink around the edges of the tips. Approx. 1″ to 2-1/4″ in length.

More Easter Bunnies & Eggs
Vintage Easter Stickers
Cute set of die-cut cardstock stickers. 5-1/2 x 8″ sheet.
Old-Fashioned Eggs Scrapbook Paper
Sweet single-sided, 12×12″ sheet with eggs against a distressed calligraphy background. Just a snippet is shown at right.
Wacky Animals Scrap Sheet
Cardstock printed with cats & dogs (& chicks & elephants & ducks & frogs & chickens?) doing some very human activities. Note: These are not die cut or perfed; you'll need to cut out the images.
French Labels Stickers
Pretty set of die-cut cardstock stickers with lots of roses and violets. 6″ x 12″ sheet.
Altered Fairies Scrap Sheet
Cardstock printed with children, birds, nests, butterflies, cats, etc. 8″ x 19″ sheet (folded in half in both photos). Note: These are not die cut or perfed; you'll need to cut out the images.

Miscellaneous
Pocket Watch Lockets – 2 sizes (different designs)
Beautiful, antiqued faux pocket watch cases (or lockets). The smaller one opens sideways (like a book); the larger one has the hinge at the bottom.
Brown Vintage Banners Rub-ons
8-1/2″ x 11″ sheet of rub-ons with beautiful banners (& birds). Hand silk-screened.
Screw Head Brads
Set of 25 pewter-finish metal brads embossed with Phillips & slotted screw heads. 5/16″ diameter each.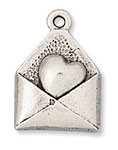 Heart in Envelope Charm
Antiqued silver plate over cast pewter. 1/2″ wide. The back side is flat and is stamped with the text "WITH LOVE."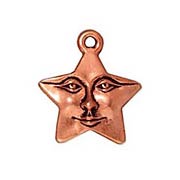 Star Face Charm – 3 Colors
Antiqued silver, gold or copper plate over cast, lead-free pewter. 18mm tall x 15mm wide. Double-sided design.
Tea Time Die-Cut Chipboard
Cute teapot & cup. Perfect for Alice in Wonderland. Laser cut, heavy chipboard (really heavy… I almost thought it was masonite). Set of 2 pieces.
Brass Tea Bag Charms
Raw brass stampings.
Pewter Chess Queen Charms
Antiqued pewter or antiqued gold-plated pewter. Lead-free, made in the USA. Approx. 5/8″ tall. 3D.
Posted by Leslie, March 27th, 2010